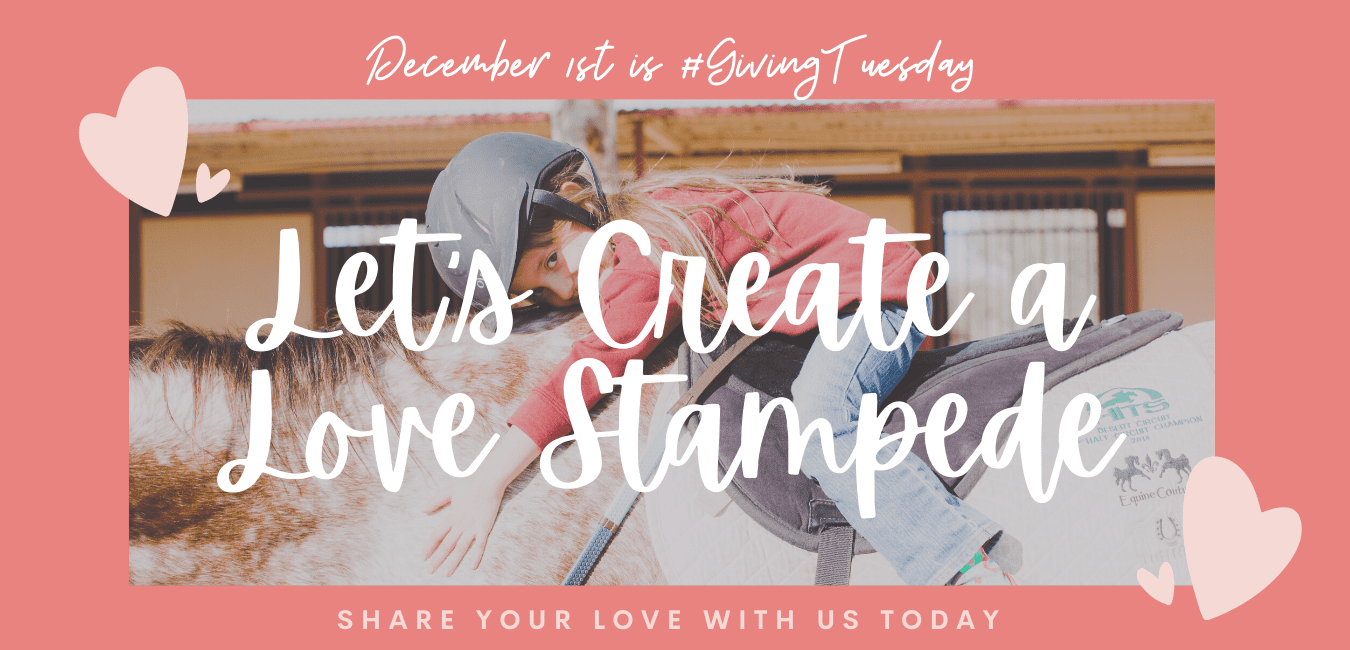 December 1st is #GivingTuesday, a global day of generosity that unleashes the power of people and nonprofits to transform their communities. We need your help to fill our Giving Tuesday Wall of Love and honor 1000 people & animals with words of love.
Donate $25: Get a Heart With the Name of The Person or Animal You Love on Our #GivingTuesday Wall of Love
Donate $100: Get a Social Media Shoutout of the Person/Animal You Love
Donate $250: Get a Personalized Video with a Farm Animal Sent to the Person You Love
Please make a donation today and follow along on Facebook and Instagram as we honor the people we love while supporting the work of Hunkapi Programs!
Make a Donation to Hunkapi Today!
What they say about work on a farm is true: it never stops! We rely on the support of community members, like you, to keep Hunkapi Programs operating. The best way to financially support the farm is to make a donation towards the General Fund, which goes to supporting our most immediate and greatest needs.
What's even better is that Hunkapi Programs qualifies for the Arizona Tax Credit for Qualifying Charitable Organizations, designed to help you reduce your state tax liability and help local children at the same time.This tax credit allows for donations made to Hunkapi Programs to be refunded to the taxpayer not as a deductible but as a DOLLAR-FOR-DOLLAR TAX CREDIT, up to $400 for single taxpayers and $800 for married taxpayers filing jointly. Once, you donate, download Form 321 for your taxes.
Simply put, this means that you are "loaning" Hunkapi your donation amount and that the next time you file your taxes, the amount of your donation will be added to your tax refund. It does not cost you a dime to donate (up to $400 for individuals and $800 for couples)!
IRS Tax ID: 26-3902877 | QCO Code: 21993
If you have any questions or concerns about donating to Hunkapi, please contact sydney@hunkapi.org.
"Margot - A Helping Hand" Scholarship Fund
In memory of Margot, a young woman whose generosity of spirit touched all who knew her. With her love of horses and connection with people, she knew Hunkapi as a place where healing was possible.
To donate to the "Margot - A Helping Hand" Scholarship Fund, please click below.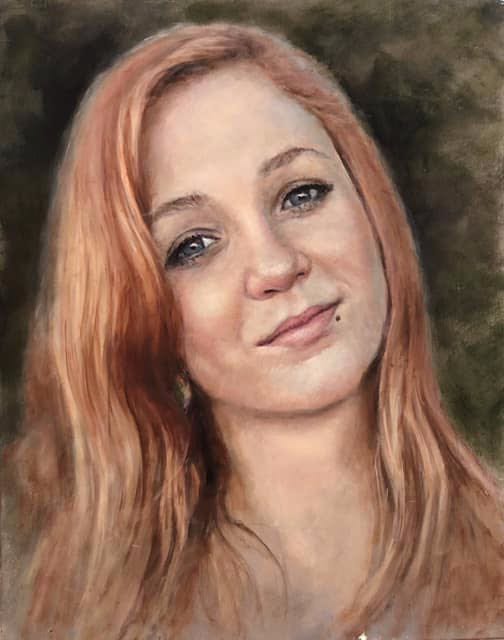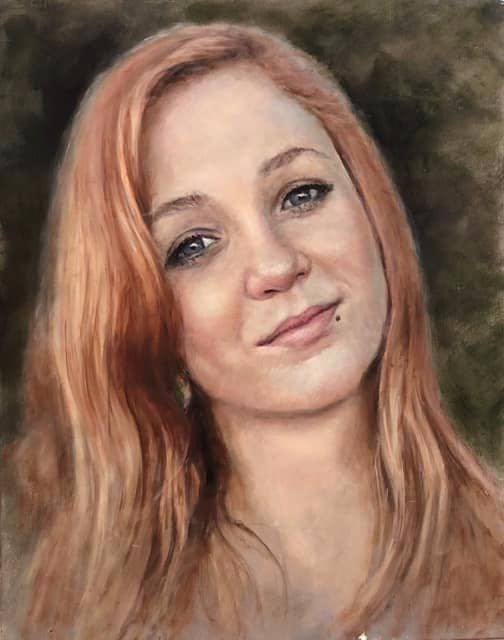 The "Limitless Possibilities" Scholarship Fund
The "Limitless Possibilities" Scholarship Fund is a scholarship for children of single parents to help with healing after divorce or trauma and for developing mindfulness and emotional intelligence. Hunkapi's equine-assisted work with children of single parents is helping young people truly open their hearts, allow healing in and embrace the limitless possibilities that exist for them. This scholarship is open to children of single parents who need financial assistance for our services.
To donate to the "Limitless Possibilities" Scholarship Fund, please click below.
2020 Horse Sponsorship Campaign
Hunkapi's horses are the life-blood of our Farm. They give tirelessly every day of the year and touch over 10,000 lives annually through our myriad programs.
Please sponsor a Hunkapi herd member today. If you would like to consider sponsoring a specific horse Meet the Herd Here.
One-time giving and monthly, sustainable giving options available.
Fully Pampered Pony
Provide a horse with new shoes and farrier visits, regular immunizations, worming, vet exam and nutritional supplements for a full year, plus a new halter, fly mask and all feeding and care.
Eat Your Greens
Provide a horse with a year's worth of nutritional supplements, wormings, immunizations, grain feedings, and hay. 
Sleep Easy
Provide a horse with shavings, auto-waterer, new feed bucket, and clean stall for an entire year.
Prada for Ponies
Provide a horse with six months of new shoes and farrier visits.
The Nitty Gritty
Provide a horse with hay and/or grain three times a day for one month.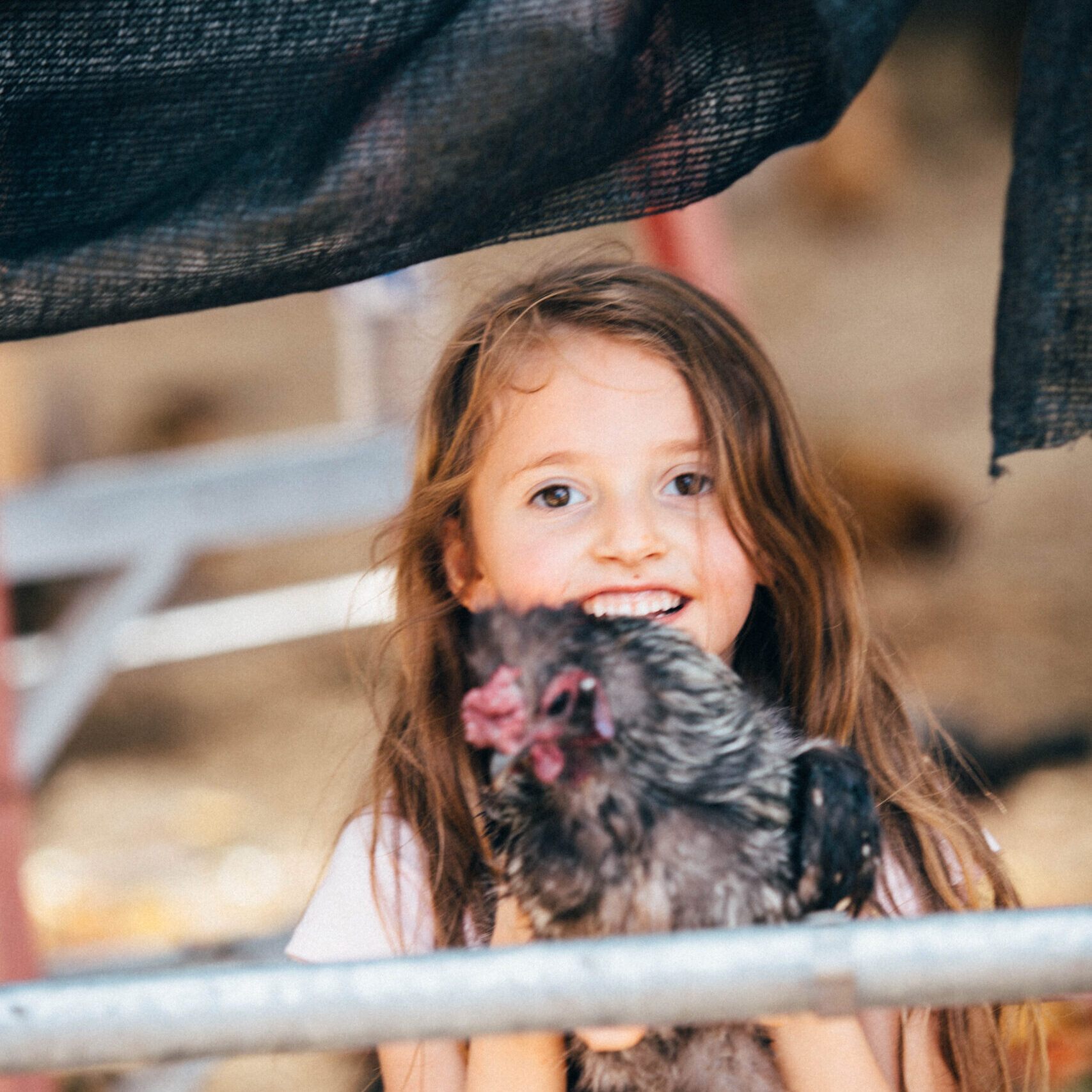 Sponsor other Farm Animals
Every day the Hens of Hunkapi offer their fluffy feathers as teaching tools for gentle touch, lightness of voice and the pleasure of stillness, while our pig offer an opportunity to experience curiosity and non-judgemental acceptance, and goats serve as a reminder of all that is blissful.
Please sponsor a Hunkapi farm animal today.  Sponsorship levels range from $40, which provides a month of feed and care for the pig, to $120, which will feed the hens for 2 weeks, to $500 to build a new patience building goat pen.
One-time giving and monthly, sustainable giving options available.
Hunkapi is so grateful for our corporate sponsors!
Corporate sponsors have many options here at the farm, whether they would like to sponsor facility improvements, the care of a herd member, or one of our events. To begin the process, contact us and let us know how your company would like to become involved!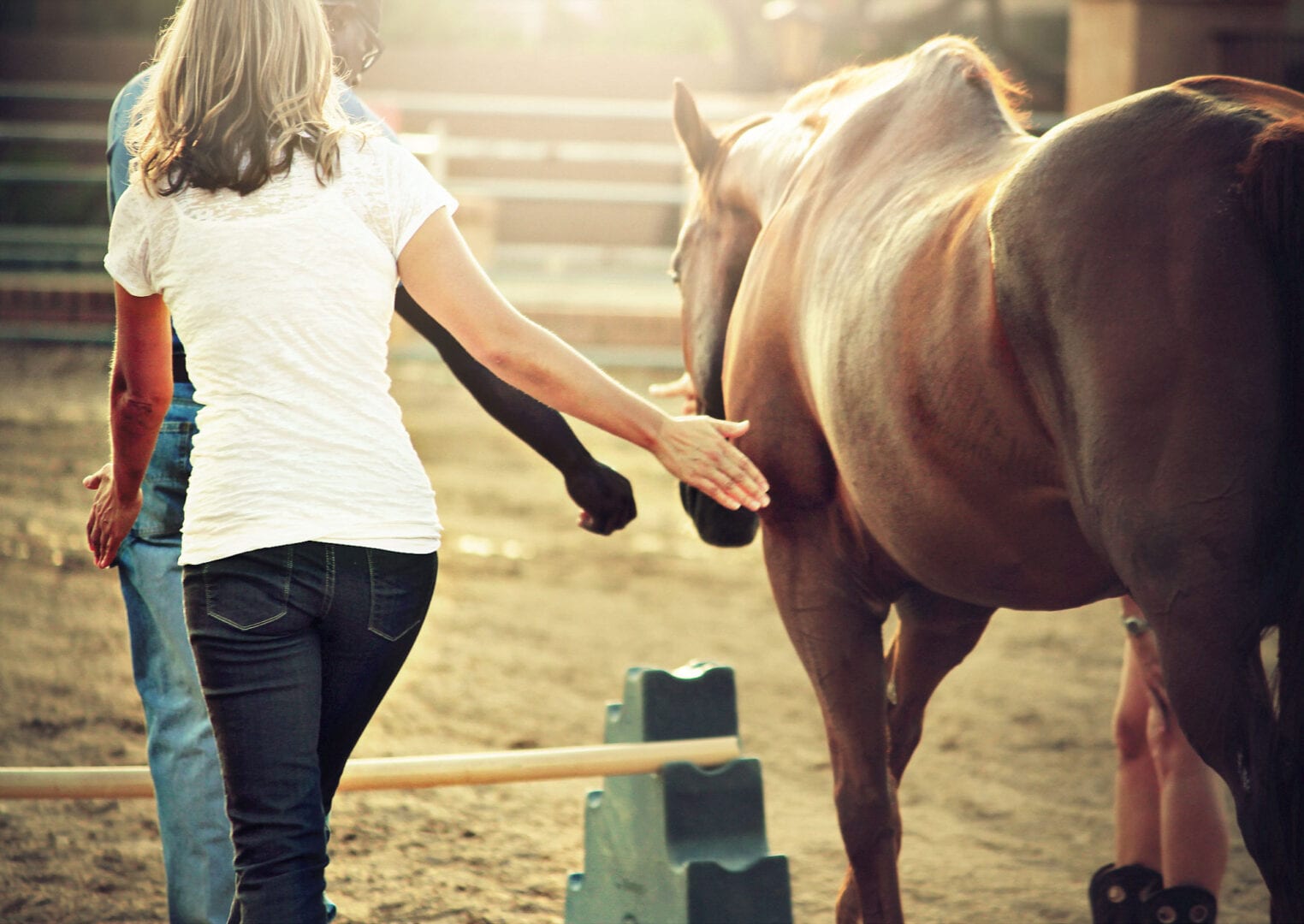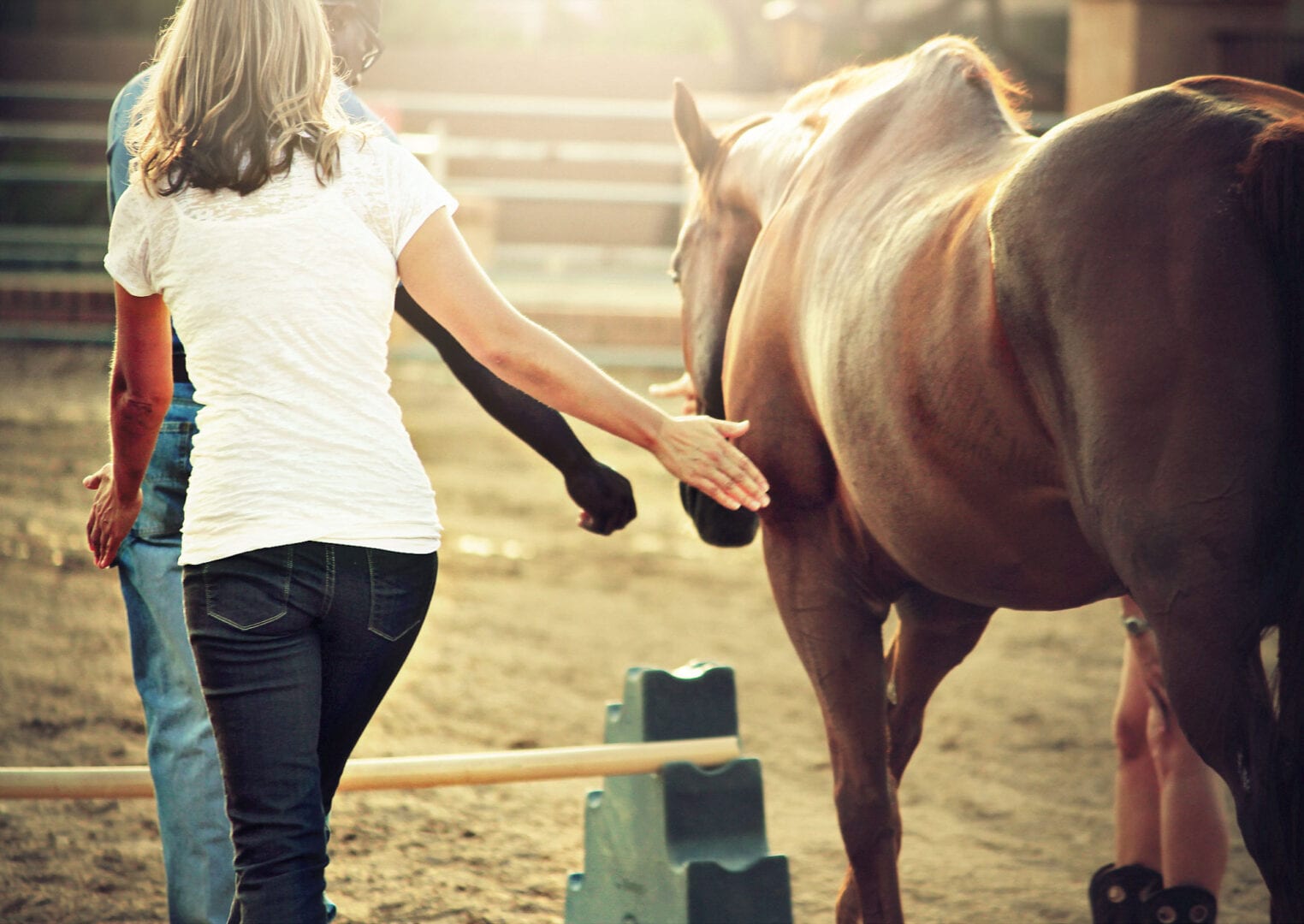 Hunkapi Wishlist
With over 10 acres of land, 25 horses and the 300 clients we serve per week,
there is always work to be done around the farm and materials that we need in order to continue our operation. 
If you have any of the items on our wishlist that
you are willing to donate, please let us know at love@hunkapi.org 
or click the button below to go to our Amazon wishlist.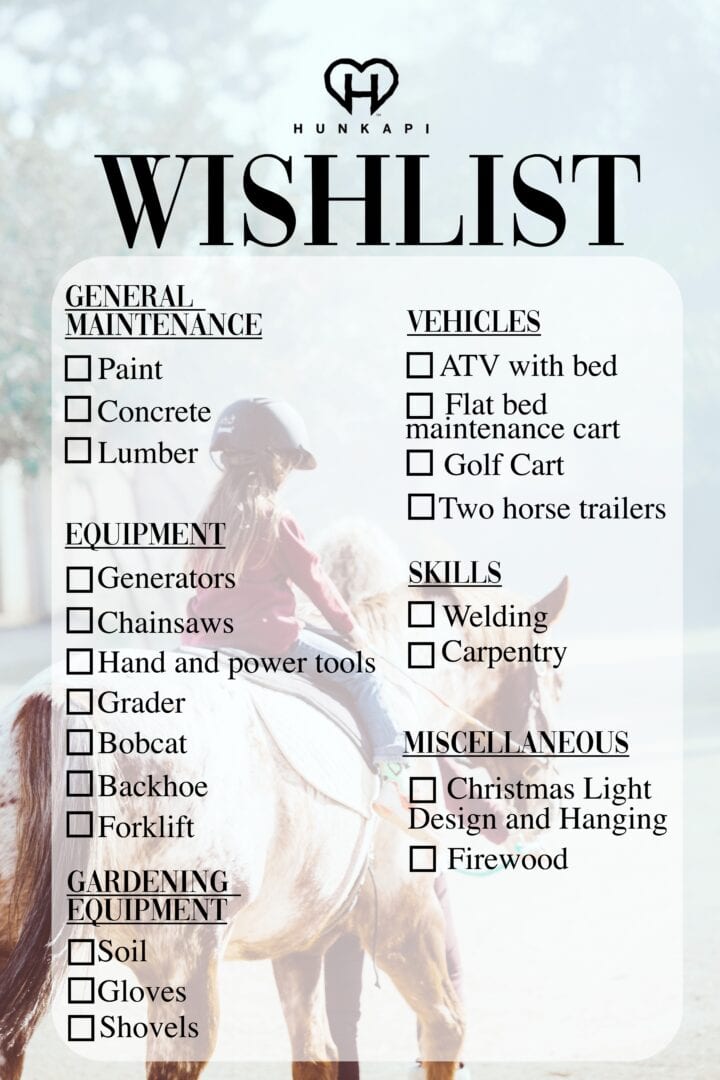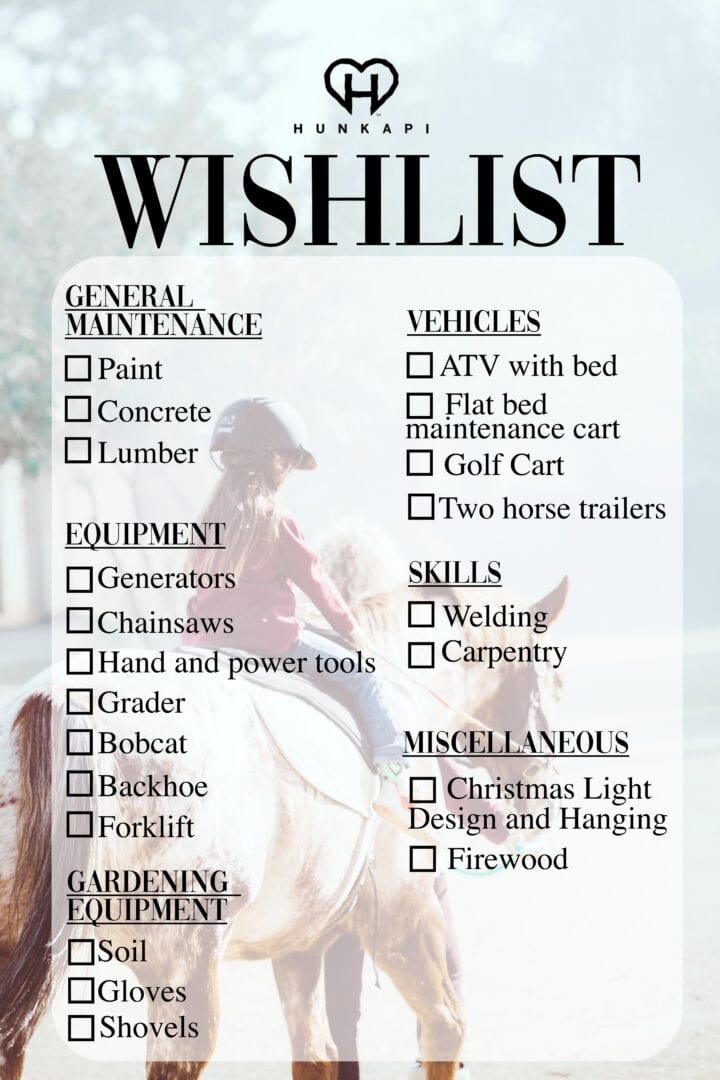 Hunkapi Programs, Inc.
12051 N 96th St.
Scottsdale, AZ 85260
Monday - Friday: 8:00 AM - 6:00 PM
Saturday: 7:30 AM - 2:00 PM